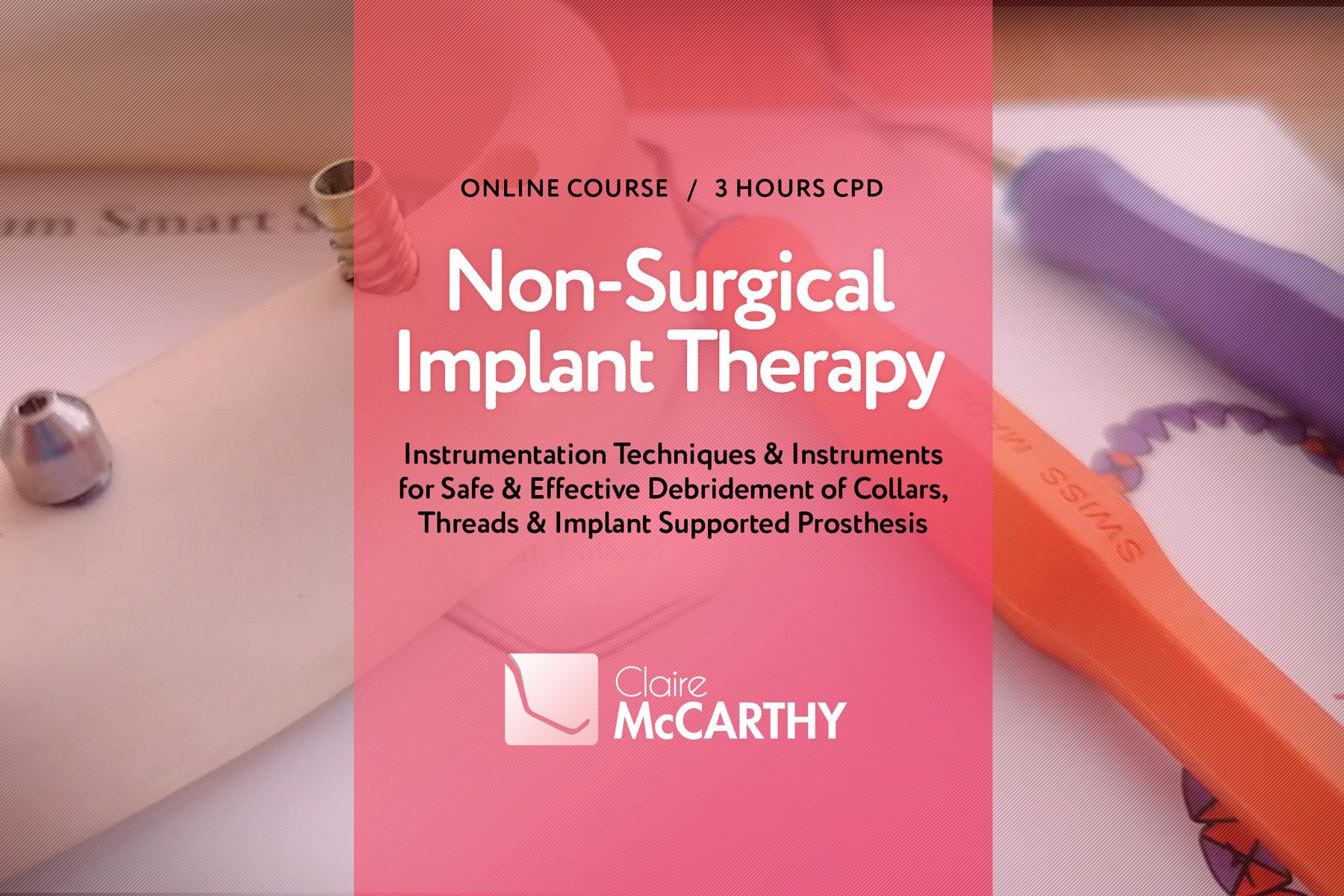 ONLINE COURSE / 3 HOURS CPD
Non-Surgical Implant Therapy

In 3 hours you will learn what instruments are safe to use on implants components and structures and how to engage the patient in lifelong implant maintenance (Supportive Implant Therapy) to ensure the health and longevity of their implants and restorative counterparts.
NON-SURGICAL IMPLANT THERAPY
Instrumentation Techniques & Instruments for Safe and Effective Debridement of Collars, Threads, Implant Supported Prosthesis

This course describes dental implant systems and discusses the specialized hand-activated implant instruments used for the instrumentation of dental implant abutment posts and supporting structures.
We will discuss the criteria for instrument selection for implant surface debridement.
We will explore implant components and structures to aid recognition and documentation
We will learn instrumentation techniques application on collar & threads and for different prostheses designs.
We will consider the recall intervals for implant patients and how to determine the frequency of professional intervention.


This course is designed for dentists, dental hygienists and dental therapists who are responsible for monitoring and treating implant patients in general practice settings.

What You Will Learn :
1.
Identify the components of a dental implant system and supporting structures.
2.
Discuss the criteria for instrument selection for debridement of dental implants.
3.
List types materials used for decontamination of implant surfaces and the variety of working-end designs of implant instruments.
4.
Remove deposits from dental implant structures using appropriate instruments and techniques
5.
Determine recall intervals for implant patients and how to communicate this to the patient.
You will Receive :
Pre-Reading Material

Reflective Workbook

Ergonomic Demonstration Video

Stretching guide for dental professionals
3 Hours of CPD Certification

Course Contents & Resources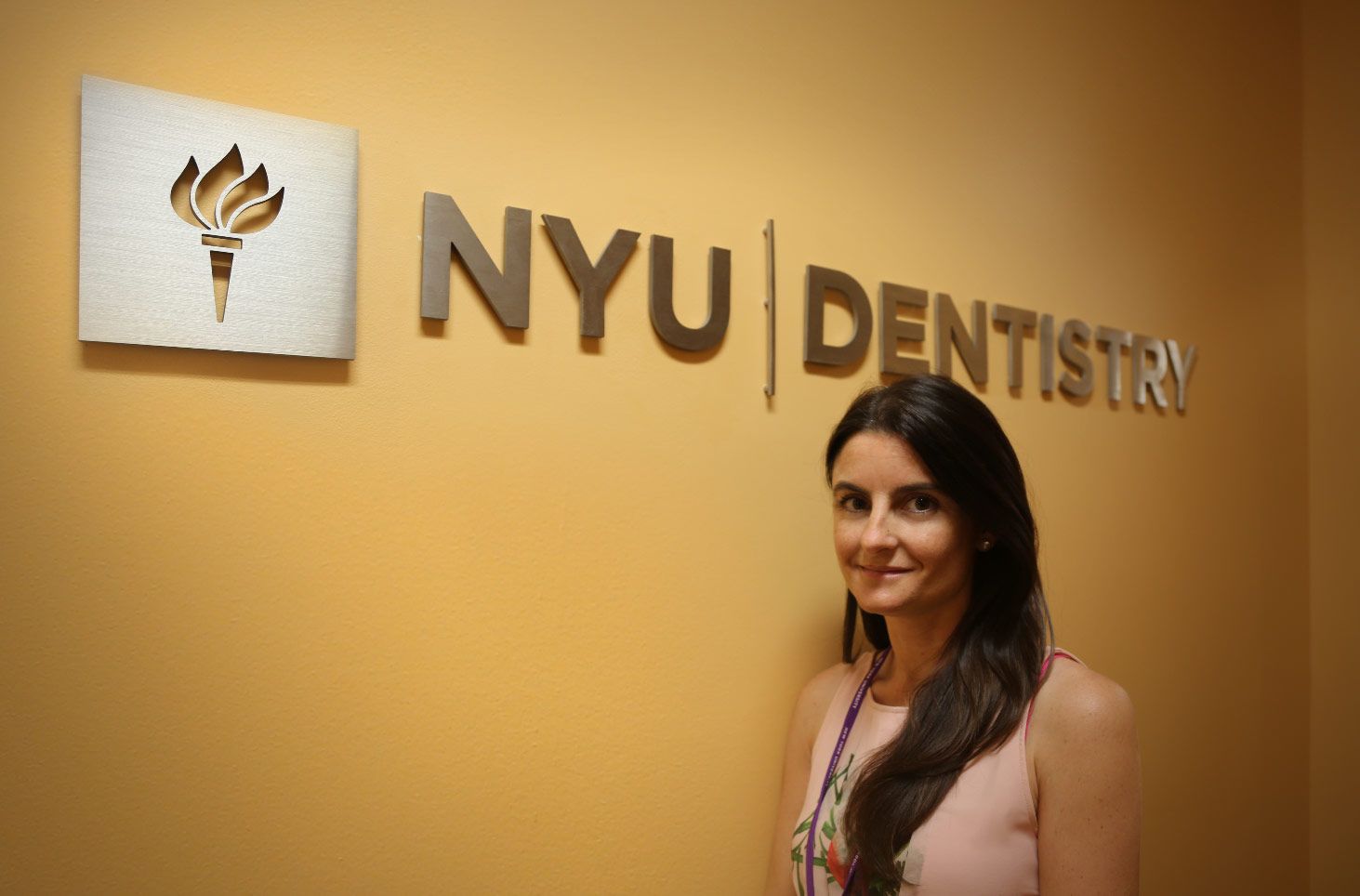 WEBINAR PRESENTER / COURSE DIRECTOR
Claire McCarthy
RDH (TCD) RDN FAETC CERT ED PGCE MA HPE(IOE) FHEA

Claire McCarthy teaches Periodontology & Implant Dentistry at NYU in New York where she is adjunct professor and course coordinator since 2014.

She has graduated from Trinity College Dublin in 2000 and has a combined 24 years clinical experience and 17 years as a researcher and faculty on BDS undergraduate programmes, Postgraduate MSc in Periodontology, Implant Dentistry and undergraduate Dental Hygiene and Therapy programmes in the UK and the US.

She is the former head of the BDS year 2 periodontology programme at King's College London, a rare position for a dental hygienist.

She completed a master's degree in Higher Education in 2007 and is a fellow of the Higher Education Academy.

She lectures nationally and internationally as well as delivering training courses in non-surgical periodontal and implant therapies. She is contributing author of a recent textbook, treats patients in private practice and undertaking a PhD at Kings College London.

Created with